COMMERCIAL WINDOW TINTING
Atlanta, Georgia is a vibrant city to live, work, and play. From Fulton County to Cobb County, over to Gwinnett, Atlanta spans a wide range of exceptional cities, including Sandy Springs, Johns Creek, Peachtree City, East Cobb, and Forest Park to name a few. You'll find a variety of Atlanta businesses from retail stores to Fortune 100 companies.
Facility management is an important factor for all businesses with a physical location. Keeping your office or storefront looking and feeling its best is important for both employees and customers. If you own, manage, or lease commercial space in the Atlanta area, we invite you to learn about the many benefits a professionally installed commercial window film can bring to your business.
Commercial Window Tinting in the Atlanta Area
The Tint Guy has been professionally installing window tint and window film since 1986. That's many years of satisfied customers and business owners. Enhancing your commercial space is easy with a window film and installation from The Tint Guy.
Why do Atlanta's commercial buildings need window tinting? It is known as "Hotlanta" for a reason. The Atlanta sun has harmful UV rays that can create high energy costs and can deteriorate interior furnishings. Whether you have retail space, a commercial or office building, a restaurant, a medical office, or any other commercial space, you can improve its efficiency, comfort, and even its looks with commercial window tinting.
Benefits of Commercial Window Tinting
Our commercial window tinting services provide far more value than many realize. It starts by improving energy efficiency to save real money on your cooling bills. Glare reduction is another overlooked benefit, making indoor spaces more comfortable and perhaps even more productive. The right commercial tinting film can provide aesthetic benefits to a company, increasing privacy and improving a building's appearance. Security film is a valuable addition to retail stores, enhancing the safety and security of your business. From reducing cooling costs to protecting your building's furniture and equipment, The Tint Guy brings true value to commercial clients.
3M Window Films
The Tint Guy offers 3M's high-quality commercial window films for long-lasting value and beauty. 3M films provide superior solar control, security, and property value for commercial or residential window tinting installation. Preventing sun damage and reducing energy costs starts with 3M products. For expert, superior installation of 3M window films in Atlanta and surrounding areas, connect with The Tint Guy.
Window Film Options for Atlanta Buildings
Protect and enhance your Atlanta building with a variety of window tinting products that offer varying benefits. These include: 
Decorative Window Tint – Elevate an office with the addition of 3M Fasara Glass Finishes that provide a texturized look at a great price. Decorative films are the perfect way to add some dimension and liveliness to conference rooms, lobbies, retail stores, private offices, and exterior-facing windows.
Low E Films – Perfect for summer and winter, low E stands for low emissivity, which prevents the sun's harmful UV rays from entering a space. This can protect occupants and keep your valuable furnishings and equipment safe and can also insulate a building during colder winter months. 3M Thinsulate Climate Control Window Film is virtually invisible, perfect for those looking for insulation with no visual effect.
Safety Films — The best combination of sun control and impact protection, safety film installation can provide peace of mind to a variety of business owners. These films protect against impact from burglaries or severe weather conditions. They also provide the financial and comfort benefits of temperature regulation in your commercial building.
Security Films & Shatter Resistance – 3M's security films are proven to delay forced entry by combining 3M Safety and Security Window Film with 3M Impact Protection Attachments Systems. If intrusions and burglaries are a problem your business is facing, installing a security window system is a simple way to deter outside danger.
Solar Control Films – Solar control is important in office and retail settings to reduce glare and ensure heat rejection to keep your building temperature properly regulated. Glare reduction can be beneficial to a variety of spaces, keeping the sun out of employees' eyes and off any electronic screens. 3M Sun Control Window Films are thin, durable films that allow enhanced interior temperature control, reducing harsh light and minimizing hot spots.
Privacy Window Films & Casper Cloaking – Privacy films obscure vision through glass panes. A privacy film is an easy way to reduce any risk of visual hacking and create comfortable environments in offices or retail stores. On the other hand, Casper Cloaking blocks the view of electronic screens, perfect for conference rooms or offices where visual privacy is crucial to your business.
Anti-Graffiti Films – Preserve and protect property from vandalism with anti-graffiti films. 3M's Anti-Graffiti Film is one of the best investments, saving you real money with easy removal and replacement.
There are commercial window tinting products for a variety of applications, solving a wide range of pain points for office buildings or storefronts. Don't know which film is best for you? Contact The Tint Guy to learn more about our offerings and how we can best serve your space.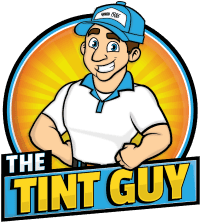 Your Go-To Commercial Window Tinter in Atlanta
Exceptional installation, superior products, and excellent service are just some of the reasons you should contact The Tint Guy for your commercial tinting needs in Atlanta. Discover why so many businesses in the area are selecting us to enhance and secure their office, store, or building windows. Add value to your building while improving its comfort and energy efficiency. Let's discuss your property and what The Tint Guy can do for you. Give us a call or fill out our form for a free estimate today!
They did and excellent job on my two cars and very professional. Will use them again
Friendly staff, very appreciative, GREAT WORK!! This is the 4th car I have used The Tint Guy for.

...

And will continue to do!

read more
Prompt , excellent communications and scheduling. Fast and professional install. Highly recommended!
I've had 4 personal vehicles tinted here and every time the service was fast and the install was

...

great. I've never had to go back for any repairs. I recommend them to anyone who asks me.

read more
From the first phone call until the film was installed on my windows this company was A1. Tonya was

...

great to work with and the installer was on time and very professional. If all companies displayed this level of professionalism, hiring any company would be a quality experience.

read more
Have used them for three of my vehicles now. They always do an outstanding job that keeps me coming

...

back. Also have recommended them to numerous friends and co-workers!

read more
I am a repeat customer and will continue to take all of my vehicles to them. Outstanding customer

...

service, excellent product knowledge and top notch work.

read more
The Tint Guy Woodstock is the best! They did an amazing job tinting the front 2 windows of my car,

...

quick turnaround, and incredible customer service! 🙂

read more
Mary Lynn L.
16:33 16 May 23
Great pricing and knowledgeable staff. Great experience.
Great customer service and product. HIGHLY recommended!!
From start to finish, the process, customer service and product was outstanding! A rare time where

...

a business does what they say they are going to do. I'm so happy I chose The Tint Guy in Woodstock to make my vehicle cooler and look amazing!

read more
Very good job and excellent customer service by office and technician!
Super friendly, helpful, and knowledgeable. Got my x5 done this week and it looks great. Turn

...

around time was quick and the quality unmatched. Highly recommend!

read more
Brought my new SUV over to The Tint Guy at Kennesaw after the good reviews and word of mouth. Ms.

...

Ansley (at the front desk) was very helpful and she walked me outside to show me samples of tint that were already on vehicles. I went with their FormulaOne Pinnacle Series all around the vehicle including my sunroof. The whole team were very professional and the job was well done. The long drive to their location was definitely worth the trip!

read more
Had a wonderful experience with these guys. They did a great job and everyone from the front to the

...

back were friendly as can be. I highly recommend The Tint Guy of Woodstock

read more
Great people and great service. Did a fabulous job!!
Excellent customer service & competitive pricing. My tint job was superb & completed in a timely

...

manner. Professional staff members that know their products. I would comeback for another tint job and would recommend them to family and friends!

read more
Fast and beautiful work on our new car. Pleasantly surprised at pricing! Very personable and

...

professional. Highly recommend.

read more
The Tint Guy did a great job tinting my company car! Scheduling was easy and friendly, and on the

...

day of the appointment, the girl, whose name I, unfortunately, didn't catch, at the desk was very friendly, knowledgeable, and patient, offering advice and making absolutely sure I got what I wanted put on my car. She even walked me around some of the cars they had on the lot to show me what each tint percentage looked like. They were right on with their quote, not trying to upcharge me at any point, and the whole process took about 1-1.5 hours, which was a little quicker than estimated. I definitely didn't feel rushed or just like a number, as I actually ran into the girl I worked with, as she just happened to be in the same shopping center our business is located in. She not only remembered me but also stopped by to make sure I was happy with my tint. They certainly seem to care about their work, and I absolutely recommend them!

read more
That Computer C.
16:11 28 Apr 23
I have been taking vehicles here for several years. They have always done a great job & they also

...

do a great job at explaining what is the best tint for what you need. Scheduling is great too! Highly recommend!!

read more
The staff was great and very informative in assisting me to make the best decision for my comfort

...

in the vehicle. I highly recommend them and this is the second time in 2 weeks I have gotten a vehicle tinted. First experience was equally satisfying.

read more
Professional quality work.Very cordial and friendly
They tinted all the windows in the back of my home, and the windows look phenomenal, and they did

...

it all within a few hours at a great price. I will use them again, and would recommend them to anyone looking for home window tinting.

read more
Richard B.
23:10 21 Apr 23
This is the second vehicle I have taken to The Tint Guy in Woodstock. The team was courteous,

...

professional, and knowledgeable about the various products and their differences. They removed the old blurry and bubbly tint which was on the car when I purchased it. I wish I would have gone to them sooner because the car looks great and I can clearly see out of the side and rear windows. The pricing was excellent and the work was completed when they said it would be. I would definitely recommend their services to anyone looking to replace or install new window tinting for their vehicle.

read more
Hands down the best high Quality used tires at an affordable price for my Chrysler Aspen. Super

...

friendly and professional guys. Nobody is coming close to these. All you other used tire places STEP YOUR GAME UP!!!!! I'm just saying

read more
Very professional and honest. Quick and thorough. Fantastic experience.
Very professional, quick install of products, good customer service, and good prices
The Tint Guys are truly amazing! Our company Occupied Renovations has had the pleasure of working

...

with The Tint Guy on several jobs. Their communication and execution are nothing short of amazing. Every Job we have had with them has been in good hands. I can not recommend their services enough. We look forward to the many more jobs to come with the Tint Guys!

read more
The Tint Guy visited The Innovation Spot last week to install some new tinting on multiple of our

...

windows, and they turned out great! We really appreciate their professionalism, as well as how quickly they did the work. Thank you Tint Guy!

read more
Got window tint on two cars. They were professional and had great communication and best warranty.

...

Thank you again!

read more
Rob, Ansley and the entire Tint Guy crew are some of the nicest people I've done business with!

...

From the first time I spoke to Ansley by phone to inquire about their services, to getting both my wife and I's vehicles tinted, they were thorough and explanatory during the entire process. I highly recommend The Tint Guy for any window treatment needs you have!

read more
The Tint Guy always delivers outstanding service and the highest quality products. The Rhino USA

...

office office looks great and is now ready for the summer temps! Thanks again to everyone on the team that made it happen. Next is the company vehicle.

read more
Let me just start by saying, this was a very professional and satisfying experience. From the very

...

first interaction to the final transaction I couldn't have asked for a better experience. The staff interaction was awesome and she answered every question with full confidence in her product and knowing her team could deliver a perfect application to my vehicle. She went answered every I had patiently and even encouraged more questions of me to make sure I was getting exactly what I expected in the end product. I was contacted several times before the date of installation through their automated system to verify my appointment and was offered to reschedule if needed up to the day of the appointment. I dropped off my vehicle and was told it would be ready in about 2 1/2 hrs and sure enough I received an automated response that my my vehicle was ready for pick up around 2 1/2 hrs later. I came in and looked my vehicle over and found a flawless product application. Again the staff was amazing and I am so pleased with this whole experience. I would recommend The Tint Guy to anyone who is in the market for window film. 5 stars to the whole staff. Thanks guys for making my day.Scott

read more
Amazing service! Nice environment and employees along with a quick and great job!
Austin and CJ helped me out with window tinting and placing decals on my truck. Everyone was

...

professional and willing to help. I am coming back. This is how great customer service and communication work.

read more
I am so pleased with the decision I made to go with "The Tint Guy." Chris Hampton was great, and

...

the installer Trevor was professional, timely, and extremely knowledgeable. I had them install tint on approximatley 11 windows in my home. I couldn't believe the difference the tint made, immediatley, on the house. My home faces northwest, and I have zero shade trees. Full sun the majority of the day. If you're in need of tint, do not hesitate to call "The Tint Guy." I will be calling them again to do a few more windows in the next couple of weeks.

read more
Excellent service and friendly staff. Answered all my questions and the tint job is perfect, I mean

...

perfect! I had to wait at their shop while the tint job was completed and Bri made me feel welcomed to use the guest lounge and wifi. While waiting, several potential customers came in and I can tell you they all left satisfied. The prices are as good or better in most cases versus all their competition in the Atlanta area.If you need/want your windows tinted, stop looking around and book an appointment with the shop!

read more
Friendly staff and they done a great job on my tahoe
The tint guy is an amazing company ! They have taken care of 2 of our projects. Great work and even

...

better customer service. Tonia is amazing and very helpful. I totally recommend and look forward to keep using their business. Thanks guys !!

read more
This is my 5th time doing business with The Tint Guy. They tinted my windows and applied PPF. I

...

keep going back because they are outstanding, I have never had a problem.

read more
Michael G.
19:43 30 Mar 23
Great People to work with, This is the 4th vehicle that they have tinted for us ,
I have used this company twice, I was very pleased with the product they provided. The customer

...

service was very friendly and helpful.

read more
Always a pleasure doing business with the tint guy. They do a great job. They are prompt., courteous
Service was great, very friendly and professional crew. They did a outstanding job on the tint work.
These guys have tinted windows on multiple vehicles for me. Each and every time the service has

...

been excellent. I highly recommend them. From drop off to pick up there was not a flaw.

read more
Totally agree with 5 star reviews! Amazing quality of work with a smile! Rob was very

...

helpful/knowledgable and recommended the right PPF/window tinting for my 5 vehicles. Ansley was amazing at answering questions and scheduling our cars. I'm glad to do business with a reputable, high quality, and friendly locally owned business. I would highly recommend Tint Guy!

read more
Jignesh P.
12:57 18 Mar 23
They make tint installation turnkey. I wanted to get my Tesla model 3 Windows tinted to improve

...

both the looks and ac efficiency. The results look clean and they gave great advice on how to keep them looking good. Would use again.

read more
Super nice crew and they did an awesome job. They will be getting all of my tinting work. I highly

...

recommend them. Bree is wonderful!!

read more
Great customer service, fast, attentive and really helpful from start to finish. They did a great

...

job on my vehicle and we will definitely be using them again!

read more
5/5 serviceSuper professional and Friendly!!! Great pricing
Needed one window re-tinted. Had me out in 30 min. Great price. Already recommended Tint Guy to a

...

friend of mine. Will go back for any future needs.

read more
They were fast, friendly, and did a great job tinting my Tesla
Was a very quick experience. The 3m film is awesome as well as the warranty that's provided. There

...

was a wonderful young woman behind the counter who was awesome and whent above and beyond to make us feel comfortable and knowledgeable about our experience. as well as providing additional information for ppf Film in the future as well as recomending an aditional shop to provide services that tint guy dosent offer. 100 out of 10 for her. There still are some small air bubbles on the tint that's on my back glass, but I was told it should go away after the adhesive sets and the water clears away.

read more
Bradley M.
02:32 10 Mar 23
Great experience all the way through. From appointment setting to final delivery. The installation

...

looks perfect, and the price point was lower than the local competition. Thanks.

read more
We had the tiny guy do our front windows and it turned out PERFECT. We also had them replace chrome

...

pieces and do black wrap and it looks SHARP. We bought black letters for the model and they replaced it for us. Looks factory made, not a cheap off brand design at all.

read more
Eric. N B.
13:18 08 Mar 23
Great job tinting my tesla. Friendly professional staff clean shop and experienced crew.
Took my 2020 C63 AMG to them and did a bit of ceramic window tinting as well as some paint

...

protection film on various areas of the car. Great people to work with and great customer service/support!

read more
Well pleased with the professional quality of their work and finished ahead of schedule.
Took care of a window and a quarter panel glass quickly and efficiently. Realized I had an old

...

review of this place that was negative, that all got sorted. This place is a great shop, updated to five stars. ⭐⭐⭐⭐⭐.

read more
Such a great experience. Everyone was very friendly and helpful, quick service and great product

...

and price. Highly recommend!

read more
Caroline B.
19:52 15 Feb 23
My experience was a great one! They were all very professional and quick! In under 3 hours my Jeep

...

was finished! I will always go to the tint guy for any future tinting needs!

read more
Super friendly from the first phone call. In and out in about over an hour. Great experience. I

...

will take my mini cooper there as well. I will recommend this shop to everyone I know.

read more
Super great job. Very pleased. Front office lady was extremely helpful and knowledgeable about

...

local vehicle tinting laws which was a huge help! Everything wonderful! Will use again if ever needed! ⭐️⭐️⭐️⭐️⭐️

read more
Excellent and detailed perfection to my 09 Pontiac vibe. Looks modern. Thank you.
Excellent service. Discussed all the options and I selected the ceramic tinting. Made an

...

appointment and it was done in around 2 hours after arriving. Highly recommend this store.

read more
The service was great. I had an appointment to have tint removed and they were ready as soon as I

...

pulled up. The staff was friendly and they got the job done quickly.

read more
I have been using The Tint Guy for years. Chris and all of his people are great. They did an

...

excellent job on my Tahoe!

read more
Excellent service, truck looks great, fast turn around and great pricing. Definitely recommend
Great service, great price. Brie was knowledgeable, helpful, and friendly. She ensured my

...

appointment started on time and ended 2 hrs later.

read more
Excellent customer service! The tint was installed in a timely matter and is flawless. Very

...

impressed, highly recommended to anyone looking for tint.

read more
Working with The Tint Guy was an exceptional experience. Professional, knowledgeable, appointment

...

was quick and easy to schedule, excellent job on removing existing window tint and replacing. No complaints here, only compliments! Would definitely use these guys again.

read more
Requested protection film be installed for my SUV door cups and they did the job very well! Time to

...

complete wasn't long at all and the waiting area was pleasant and modern. They offer small beverages for customers that are waiting and have a tv on with the local news which helped pass the time. Will definitely visit again and bring my business back to this shop.Update 1/18/2023:Once again excellent service with having front windows and windshield tinted. Took less than two hours, received text message when car was finished. No issues with tint film. Team was courteous and professional.

read more
Great experience getting tint here. I can't remember the girls name at the front, but she was very

...

friendly and helped my son and I pick the right tint for his car.

read more
stephen F.
13:43 18 Jan 23
I have taken 3 of my cars to The Tint Guy over the past 2 years. Both the Kennesaw and Woodstock

...

location are top notch when it comes to services offered and customer service. Best tint shop around !

read more
Addison H.
19:51 11 Jan 23
If you want your windows tinted correctly, Mr. Tint is the place to go! Customer service was GREAT

...

and my windows look WONDERFUL !

read more
Anthony M.
21:10 10 Jan 23
I have taken a few of my vehicles here for tinting over the years, always a great experience and

...

the staff is very knowledgeable.

read more
Victoria M.
14:23 10 Jan 23
Very easy to deal with. Brea (sales) was great and got me in and out in a very timely manner. Oh

...

yeah, the window tint was perfect!

read more
Great customer service and they did a great job with the tint. It looks perfect!!Update: Got my

...

back driver's window busted out and had to have the new window re tinted. The Tint Guy is the only place I trust so I had it done there. They were SO fast! I think I was there a total of 25 minutes. Price was reasonable and the customer service is really good.

read more
Had tinting done on 3 cars over the years and always great and friendly service and quality

...

products.

read more
From the beginning to the end I was provided top tier service. The price was accurate and

...

reasonable and I even decided to share the company with family members and friends who booked shortly after me. I would go back and recommend to others.

read more
The process was very smooth and reasonably priced. Brie is tremendous as the customer-facing

...

coordinator of their services.

read more
I bought a new Mercedes and wanted the windows tinted. Mercedes tried to get it right 4 times

...

before I finally decided to let the tint guy try to tint them because their reviews were so good. They did it perfectly, and put the Mercedes dealership to shame! Trust these guys with your vehicle whether they are placing tinting on your vehicle for the first time or fixing someone else's mistake!

read more
Thoroughly explained my options, made sure I understood warranty and aftercare, fast service. 100%

...

recommend for auto window tinting

read more
They are very professional and perform an exceptional job
I am so glad I came here and got my new car windows tinted. Not only are they so kind and

...

professional but they did such a great job in less than an hour. I made the appointment online but then I called, and I asked a bunch of questions, and they were so thorough with their answers and so patient. The receptionist was so nice and accommodating as well. I will one million percent recommend The Tint Guy! Thank you all so much.

read more
Kristine G.
15:44 20 Dec 22
These guys are thorough professionals . They listened to my needs, didn't try to upsell, had the

...

best rates and were very quick with the installation . I am their life long customer . Never going anywhere else

read more
This is hands down the best window tinting shop out there!! I've brought 3 vehicles here to have

...

the windows tinted and the quality and pricing is top notch. Don't hesitate to bring your vehicles here!!

read more
Michelle W.
14:31 17 Dec 22
The service provided by The Tint Guy organization was phenomenal, the professionalism was top

...

notch, I was definitely recommend to ALL, to have their windows tinted here. Fabulous job!!!!

read more
Brought an m6 after a good first experience with my model Y. Will definetely come back! Very fast,

...

efficient, and fair prices. I'm a firm believer that you get what you pay for and thus believe if you want top quality tint with expert installation look no further. I'll be back soon!

read more
Great folks to deal with---very knowledgeable, courteous, timely and accommodating to flexible

...

scheduling. Just the best. Have been using The Tint Guy for 10+years--my first stop every time I purchase a vehicle!

read more
I had a very pleasant experience with The Tint Guy. My two front windows and sun visor were tinted

...

within an hour. The customer service was exceptional. Overall, a very professional experience. I would recommend this business to others for their tinting needs.

read more
Great customer service! Over exceeded my expectations on services I needed done.
Elite Moving S.
16:23 13 Dec 22
Great service. Everyone was friendly. Will gladly refer anyone to them. Thank you!
BigCatPete
15:41 13 Dec 22
They are always professional and quick. Great pricing as well. Have done two vehicles and will

...

continue to use them in the future.

read more
I had to take the help of the Tint Guy company, to help put Tempered film on my windows , on either

...

side of the Sunroom door. This was to pass my final county Inspection for the Sunroom. Tonya from the company, explained to me all the details of the process, time it takes for the installation etc. She was very helpful and has a good knowledge of her work.Even after the film was put on, the County still didn't pass the inspection as they had a few more questions. Then Tonya got on a call with the County Inspector and cleared him of all his doubts. With in 24 hours, the Inspection was passed successfully.I can't thank Tonya enough for her help and support in this matter. thanks once again. I highly recommend this company for any of your such needs.

read more
They fit me in super quick and were awesome to work with. Bringing in one of my work trucks,

...

mothers car and all my future business!

read more
Great customer service. I've had every window on my vehicle tinted with this company and the team

...

has always exceeded my expectations. They're very respectful of you and your time and tries their very best to accommodate your needs. Their tint jobs are backed by a lifetime warranty so that's a plus. The shop is super clean too, so that's another plus. I'll be taking all my future vehicles here.

read more
I would highly recommend The Tint Guy for all your tinting needs beyond your car. They do tinting

...

for homes, boats ect. They have tinted my last 4 cars and their attention to detail goes above anyone else in my opinion. Thank you guys for another amazing tint job on my Mercedes!Steve M.

read more
Called by these guys while driving past. I popped in and enquired about tinting the front door

...

windows on my dodge ram.Next day i went onto their website to book an appointment. Everything was so easy to navigate and nail down a time. I had my son take the truck down there and he waited while they did it. Took about 30 minutes.It looks absolutely fantastic. Full marks to these guys. I will be using them again and have no hesitation in recommending them to anyone. 10/10

read more
I thoroughly enjoyed my experience with The Tint Guy. The front desk worker was very knowledgable

...

with the product being offered and very patient with me as I made my decision. The tint looks great, and they also seemed pleased with the finished product which left me even more happy with my experience. They definitely take pride in their service. Thank you!

read more
Shannah S.
18:27 09 Nov 22
Fantastic and quick service for a challenging task - removal of rear windshield tint without

...

damaging defrosters, all for a very reasonable price. Staff was very pleasant and helpful.

read more
Sebastian R.
16:10 05 Nov 22
Fantastic work & service experience! Will never go anywhere else when it comes to tinting. Thank

...

You!! 😎

read more
I got my windows tinted on my F 150 , great customer service and great price. Thanks for a job

...

well done

read more
I took my Mercedes E class and originally went to the wrong location but wound up at this location.

...

I have to say the experience was extremely pleasant. The job was done very professionally and my car looks gorgeous. The guy that was running the place, I think his name was Rob, was professional and explained the many different options I had. I got the "nano"-ceramic.

read more
Used them to install mirror tint for company office windows to block out sun and saving On cooling

...

costs. Fast friendly and affordable.

read more
Had all of the windows on my CT6 tinted... only took approximately two hours! They were very

...

informative during the selection process. It turned out amazing and i couldn't be happier. I was worried about some small water spots at first, but just like they said, once cured, the small amount of bubbling disappeared! Looking forward to calling them soon for an estimate on PPF! I am very OCD when it comes to anyone touching my vehicles, I trust them 100%!

read more
Christopher M.
23:49 24 Oct 22
Very friendly knowledgeable staff. They do what they say they will do. On time and excellent work.
Staff is very friendly & courteous. Service was prompt & completed at time stated. Very happy with

...

the outcome!

read more
Very professional and great craftsmanship. Friendly and willing to listen and assist. Would not go

...

to ANYONE else for window tinting. I have had two autos tinted.

read more
They did a great job with our car and it didn't take them very long at all!
Tint guys is the only place I trust to install 3m Crystalline on my Vehicles, they have tinted a

...

Ford Shelby GT350 for me, and now my 2014 Taurus SHO.The work they do is always top-knotch, I have referred several people in Atlanta S550s to them for window tint, and everyone has always been thrilled with the quality of the work.Great job as always.2022 Update they have now tinted my Fiesta ST, Lincoln Aviator and GMC Yukon XL. Still a fantastic job as always.

read more
Overall great! I set up an appointment a few days in advanced and upon arrival I was assisted

...

immediately with a clear introduction to the type of window tints that this business provides. I went with dark tints and so far the quality looks amazing. Overall great service, highly recommend to anyone looking for window tints for their vehicle!

read more
Must go . These guys are fast and efficient. Great customer service experience. The young lady up

...

front is very informative and great personality.

read more
Have had a couple of cars done by them (just got one done today actually) and have sent friends to

...

them as well. They are my go-to place for car tinting. Honest, professional, good value, and always done right. You get a lifetime warrantee, but never had to use one....guess if you do it right then you have no problems :)Do not hesitate to use them and will continue to use them myself and recommend to others. They take pride in their work and it shows.

read more
I've been going to The Tint Guy for years and have ALWAYS been satisfied with their overall

...

service. I've also used their home window tinting company, awesome work!

read more
Charlotte C.
17:55 07 Oct 22
Great customer service and did a fantastic job! Only place to go for tinting!
Patrick R.
17:21 04 Oct 22
The Tint Guy came highly recommended and boy were they on point. These guys are the best;

...

courteous, efficient, and best product. They matched my two front doors so well. And the guarantee on the job is a huge plus.

read more
Impeccable work. Not the cheapest, but not the most expensive… But why would you not invest in your

...

vehicle the right way!

read more
I used the Tint Guy in 2005 for a new vehicle tint - never had any challenges with the tint…very

...

professional job. I moved out of state not long after. Fast forward, nearly 17 years later I returned to Atlanta in need of a rear tint removal and replace on my Lexus RX 350.Same quality, professional and very friendly service as in 2005. I highly recommend the Tint Guy - OH And Don't Forget he moved up the street. 😁

read more
Very nice people. Great customer service!!! Awesome work.Great price. CJ thanks for putting my tag

...

on.

read more
Had them tint me and the wife's vehicles. Only been a day, but all seems good. Scheduling was

...

efficient. Price and time were as promised. Can't say on warranty and hopefully won't have too. Would recommend!

read more
This is the 4th vehicle that I've had done by them. Every one has come out better than the last it

...

seems. These guys and gals are incredibly polite, professional, and are 5 stars all the way around! One of the employees had a dog with them the day I was there...so bonus star if possible.

read more
Prompt attention and great communication, from scheduling through the work. Very knowledgeable

...

personnel and courteous to boot! Tinting was finished quickly! Very happy with the tinting result and cost.

read more
Professional and prompt. Will be using this business again for any window tinting needs moving

...

forward.

read more
Friendly people and quality service. I would bring any future cars here!
Anthony S.
11:51 26 Aug 22
First time using these fine folks. Service request was needed before vacation, they took me in

...

within 1 hour and had me done in 45 minutes. Awesome team and highly recommend The Tint Guy, Suite 220. Thanks everyone.

read more
Very professional, great service, and great product. I was in and out and the work was done

...

correctly and looks great. Highly recommend.

read more
Rob and his team are great. Got my pickup in and out within 3 hours and the workmanship was

...

excellent. I will definitely be back.

read more
I took in my 2022 Nissan rogue to get the front windshield and the two front passengers windows

...

tinted and they did an amazing job. My vehicle looks so good right now. I'm even thinking about getting the ceramic for the vehicle. I would recommend this place to anybody. Good prices and great customer service. Thank you guys.

read more
The Tiny Guy was super friendly and helpful. Scheduling was easy and they took the time to help me

...

pick the right film for my needs. They did a great job! The shop is very clean and comfortable.

read more
Lindsay B.
15:05 11 Aug 22
Excellent customer service and amazing job on my window tint. I have been a customer since 2018 and

...

highly recommend!

read more
2022 Model Y, Llumar Stratos on every window, sunroof and windshield. Experience from Initial visit

...

to job completed was excellent. There was a blemish on the sunroof but they were quick to get me rescheduled to fix it and everything now looks great!

read more
Excellent service and quality!Highly recommended!
The quality of tint is why I chose them! The color inside is great with no hazing or streaking.

...

These guys are truly professionals and I'm glad that I chose them! Going to be bringing my second vehicle here soon.

read more
Quick friendly service at a good price. Couldn't ask for more..
I highly recommend taking your vehicles here for window tint. Professional, experienced, and

...

friendly staff that knows thier stuff.

read more
I couldn't be happier with the service and the product. 5 stars for sure!
This is the second vehicle that I have taken to The Tint Guy, they do great work, staff is friendly

...

and my vehicle was completed on time

read more
I first look at ratings on line and The Tint Guy was virtually all 5's. My SL is a hot fish bowl,

...

in the sun so I knew I needed good IR reflective film so I confirmed they are certified by 3M which in my opinion has the best technology. Then I called and actually got to talk to a real well informed polite person was able to accommodate my schedule at a local (to me) facility. Got a text to remind and confirm the day before. Brought my car in and the young lady advised me of different options. I signed the agreement and left. In a couple of hours I picked the car up and saw probably the best tint job of any I received, easily better than my 911 Porsche tint job done by the dealer. I highly recommend the the Tint Guy and 3M Crystalline film. The car is much cooler and looks great.

read more
The hype and reviews match the service and excellent work. Gave my C8 a whole new look with

...

excellent visibility. Very impressed!

read more
Scott "GAPRacing" P.
00:48 04 Jul 22
I have used Tint Guy on all of my vehicles, only company I trust! 100% recommend!
This was my second experience with The Tint Guy and I know I will be back again! I knew I wanted my

...

windows tinted to keep my car cooler but I had no idea what I really needed or wanted. When I showed up for my appointment, I had every question answered and more. I felt very comfortable with the decisions we made and I absolutely love it now! I have already talked to two neighbors about getting their windows tinted too! Thank you Tint Guy... I love my car even more now!!!

read more
Kathleen M.
12:05 28 May 22
Glass Coating, Tinting & Window Treatment Specialists