COMMERCIAL WINDOW TINTING
Atlanta, Georgia is a vibrant city to live, work, and play. From Fulton County to Cobb County, over to Gwinnett, Atlanta spans a wide range of exceptional cities, including Sandy Springs, Johns Creek, Peachtree City, East Cobb, and Forest Park to name a few. You'll find a variety of Atlanta businesses from retail stores to Fortune 100 companies.
Facility management is an important factor for all businesses with a physical location. Keeping your office or storefront looking and feeling its best is important for both employees and customers. If you own, manage, or lease commercial space in the Atlanta area, we invite you to learn about the many benefits a professionally installed commercial window film can bring to your business.
Commercial Window Tinting in the Atlanta Area
The Tint Guy has been professionally installing window tint and window film since 1986. That's many years of satisfied customers and business owners. Enhancing your commercial space is easy with a window film and installation from The Tint Guy.
Why do Atlanta's commercial buildings need window tinting? It is known as "Hotlanta" for a reason. The Atlanta sun has harmful UV rays that can create high energy costs and can deteriorate interior furnishings. Whether you have retail space, a commercial or office building, a restaurant, a medical office, or any other commercial space, you can improve its efficiency, comfort, and even its looks with commercial window tinting.
Benefits of Commercial Window Tinting
Our commercial window tinting services provide far more value than many realize. It starts by improving energy efficiency to save real money on your cooling bills. Glare reduction is another overlooked benefit, making indoor spaces more comfortable and perhaps even more productive. The right commercial tinting film can provide aesthetic benefits to a company, increasing privacy and improving a building's appearance. Security film is a valuable addition to retail stores, enhancing the safety and security of your business. From reducing cooling costs to protecting your building's furniture and equipment, The Tint Guy brings true value to commercial clients.
3M Window Films
The Tint Guy offers 3M's high-quality commercial window films for long-lasting value and beauty. 3M films provide superior solar control, security, and property value for commercial or residential window tinting installation. Preventing sun damage and reducing energy costs starts with 3M products. For expert, superior installation of 3M window films in Atlanta and surrounding areas, connect with The Tint Guy.
Window Film Options for Atlanta Buildings
Protect and enhance your Atlanta building with a variety of window tinting products that offer varying benefits. These include: 
Decorative Window Tint – Elevate an office with the addition of 3M Fasara Glass Finishes that provide a texturized look at a great price. Decorative films are the perfect way to add some dimension and liveliness to conference rooms, lobbies, retail stores, private offices, and exterior-facing windows.
Low E Films – Perfect for summer and winter, low E stands for low emissivity, which prevents the sun's harmful UV rays from entering a space. This can protect occupants and keep your valuable furnishings and equipment safe and can also insulate a building during colder winter months. 3M Thinsulate Climate Control Window Film is virtually invisible, perfect for those looking for insulation with no visual effect.
Safety Films — The best combination of sun control and impact protection, safety film installation can provide peace of mind to a variety of business owners. These films protect against impact from burglaries or severe weather conditions. They also provide the financial and comfort benefits of temperature regulation in your commercial building.
Security Films & Shatter Resistance – 3M's security films are proven to delay forced entry by combining 3M Safety and Security Window Film with 3M Impact Protection Attachments Systems. If intrusions and burglaries are a problem your business is facing, installing a security window system is a simple way to deter outside danger.
Solar Control Films – Solar control is important in office and retail settings to reduce glare and ensure heat rejection to keep your building temperature properly regulated. Glare reduction can be beneficial to a variety of spaces, keeping the sun out of employees' eyes and off any electronic screens. 3M Sun Control Window Films are thin, durable films that allow enhanced interior temperature control, reducing harsh light and minimizing hot spots.
Privacy Window Films & Casper Cloaking – Privacy films obscure vision through glass panes. A privacy film is an easy way to reduce any risk of visual hacking and create comfortable environments in offices or retail stores. On the other hand, Casper Cloaking blocks the view of electronic screens, perfect for conference rooms or offices where visual privacy is crucial to your business.
Anti-Graffiti Films – Preserve and protect property from vandalism with anti-graffiti films. 3M's Anti-Graffiti Film is one of the best investments, saving you real money with easy removal and replacement.
There are commercial window tinting products for a variety of applications, solving a wide range of pain points for office buildings or storefronts. Don't know which film is best for you? Contact The Tint Guy to learn more about our offerings and how we can best serve your space.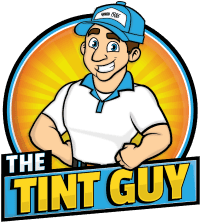 Your Go-To Commercial Window Tinter in Atlanta
Exceptional installation, superior products, and excellent service are just some of the reasons you should contact The Tint Guy for your commercial tinting needs in Atlanta. Discover why so many businesses in the area are selecting us to enhance and secure their office, store, or building windows. Add value to your building while improving its comfort and energy efficiency. Let's discuss your property and what The Tint Guy can do for you. Give us a call or fill out our form for a free estimate today!
Glass Coating, Tinting & Window Treatment Specialists
Get A Free Estimate
"*" indicates required fields