Transform Your Space with Decorative Window Films from The Tint Guy
Decorative window films are an incredible way to redefine the aesthetics of your space, providing privacy, protection from harmful UV rays, and a touch of elegance, all at an affordable cost. The Tint Guy, Atlanta's leading window tinting company, offers a wide selection of high-quality 3M Fasara Glass Finishes that can bring your home or commercial building to life.
Why Opt for Decorative Window Films?
3M Fasara decorative film is a revolutionary product that serves a multitude of purposes. It helps block harmful UV rays, promotes privacy, allows natural light to filter in, and enhances your decor. Plus, it's an energy-saving solution that prevents direct sunlight from heating up your space, helping to reduce your energy costs.
The decorative glass film can be applied to any flat glass surface, transforming a plain glass door or window into a work of art. With different patterns and unique designs, it offers an easy way to achieve your desired look. Choose from a variety of films, including frosted window film that provides partial privacy, perfect for bathroom windows and shower enclosures, or translucent film that delicately balances privacy and natural light.
3M Fasara Glass Finishes: Quality and Aesthetics
The decorative glass films from 3M Fasara come in a wide range of styles, all of which offer unique patterns that can add an artistic touch to your space. 
Enhance Aesthetics

: Transform plain glass with our films for a high-end finish, offering a distinctive look at a fraction of the cost of traditional treatments. Incorporate your unique designs for an elevated visual appeal.

Flexibility

: Adjust privacy levels with Fasara Glass Finishes. Use them to create a serene, opaque effect for complete privacy, or layer the films for dynamic effects. Update easily to match changes in space or privacy requirements.

Easy Application

: With 3M's advanced adhesive technologies, we guarantee fast, accurate, and aesthetically pleasing installations. Films can be applied smoothly to any size of glass and can be easily removed or replaced as needed.

Durable Materials

: Fasara Glass Finishes are made of durable polyester materials, known for their flexibility and resilience. They withstand constant sunlight exposure and retain their vibrant color and clarity, perfect for various glass surfaces.
Where Can You Use Decorative Window Film?
From your conference room to office space, these decorative privacy window films can be applied on any glass surface in your office, store, or home:
Office Spaces & Conference Rooms

: Achieve partial privacy while maintaining a professional look. Customize the film to include your company logo or choose a design that complements your decor. These films also reduce glare, making the workspace more comfortable for your employees.

Lobbies

: Enhance the first impression with a rich color or unique pattern that matches your brand's aesthetics.

Residential Settings

: Create privacy in bathroom windows or add an element of decor to your living room or kitchen. Decorative privacy window films are also great for shower enclosures.

Exterior Windows

: Improve the exterior appeal of your home or office with films that offer a resistant coating to keep your glass safe from wear and tear.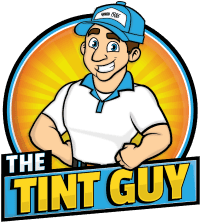 Tailored Tinting Solutions to Meet Your Needs
At The Tint Guy, we understand that each project is unique, which is why we offer a wide selection of decorative window films to meet various needs and preferences. Investing in decorative window film and installation services from The Tint Guy is a simple and affordable way to transform your glass doors, windows, and other surfaces while improving energy efficiency and protecting your space from harmful UV rays. 
Contact us today to explore our extensive collection and discover how we can help you achieve the look you desire for your home or commercial space.
Glass Coating, Tinting & Window Treatment Specialists