Safety & Security Window Film for Schools
Optimizing Safety in a School Setting 
Today, fostering a safe and secure learning environment is more difficult, but more important than ever. Local school administrators and district leaders are challenged with the task of protecting, monitoring, and controlling their schools and require every available resource to do so. To add an extra layer of protection, schools around the nation are turning to security window film. Learn more about how window film can play a key role in ensuring the physical security of students and staff. 
Security Window Films in School Settings
Of course, alarm, lock, and monitor systems are top priorities in school systems, but these solutions fail to fully secure a building when windows are left easily penetrable. 
Security window films act as a robust, transparent barrier that holds glass together under impact, mitigating potential harm from flying shards and delaying the time it takes to penetrate entryways. This can be valuable control in incidents involving active shooters, vandalism, and natural disasters. Working in conjunction with lock and alarm systems, window films take that extra step toward creating a safer learning environment. 
Many states, including Texas, have already identified the necessity to secure school windows by mandating that districts have film installed on "ground-floor windows, glass doors, and windows near glass doors."
When it comes to your school's security, why settle for less than the best? 3M™, a brand trusted by thousands of schools across the country, offers high-quality safety and security window films for school settings. 3M™ films provide an optimal balance between safety and visibility, without compromising on either. 
When combined with 3M's Impact Protection Attachment System, these films offer even more robust security. This innovative system bonds the filmed window to the window frame, providing additional protection against high-force impacts.
Learn about what makes 3M™ Safety & Security Films & Impact Protection Attachment System the most reliable.

Fragment Retention

: 3M security window films prevent window glass from shattering into dangerous fragments, potentially reducing injuries.

Increase Response Time

: These films can slow down potential intruders, providing extra time for law enforcement to respond.

Cost-Effective

: 3M window films offer superior security without breaking the bank. They're a cost-effective solution compared to alternative options.

Efficient Installation

: With professional contractors, the installation process can be a customized, process that causes minimal disruption to your school's daily activities.

Long-Lasting

: With proper care, 3M window films can last for years, making them a smart, long-term investment for your school's safety.
3M™ Safety & Security Film in Action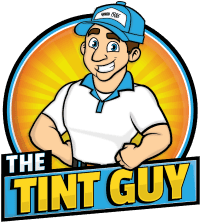 Georgia Schools Can Rely On The Tint Guy
The Tint Guy isn't just a service provider – we're a community member dedicated to enhancing the safety of our local schools in Georgia. With almost four decades of experience, we're proud to be one of North Georgia's top-rated service providers. 
Our expert installers are extensively trained and certified in efficient and effective applications. We work to provide customized solutions based on your organization's schedule and budget. 
At The Tint Guy, we understand the unique needs and concerns of Georgia schools. Our local knowledge, coupled with 3M's global expertise, makes us the go-to choice for school window security around the community. 
Secure your school's future today. Contact The Tint Guy for a consultation, and let's start building a safer learning environment together.
Glass Coating, Tinting & Window Treatment Specialists
Contact Us For More Information!