Secure Your Atlanta Home with Residential Security Window Films
Your home is a place where memories are made, and cherished possessions are kept. Maintaining its security is crucial in protecting not just material possessions, but the emotional well-being and peace of mind of all who reside within. 
Windows are a valuable yet vulnerable part of any home. Security window films can help protect your property from large risks, like break-ins and natural disasters, and smaller inconveniences, like golf balls and accidental breaks. Atlanta homeowners can turn to The Tint Guy to install quality security film and help protect their home windows. 
Enhancing Your Home's Security with Window Films
Residential security window films function as an invisible yet powerful barrier that holds your window glass in place under impact. Designed with fragment retention capabilities that prevent window glass from shattering into dangerous pieces, potential injuries and the effects of damage are both reduced. 
In the event of an attempted break-in, these films can slow down potential intruders, providing valuable time for law enforcement to respond. With a reliable installation process and long-lasting protection, your windows will be stronger, more durable, and safer than ever before. 
Trust 3M™: The Premier Solution for Residential Security Films
Designed to offer maximum safety without compromising the aesthetics of your home, 3M™ offers the best Safety & Security Window Film on the market. No matter what cause of impact, the technology and quality of  3M™'s security offerings are sure to increase protection while decreasing breakage, injury, and risk. 
Combined with 3M's Impact Protection Attachment System, these films offer even more robust security. This innovative system bonds the filmed window to the window frame, providing additional protection against high-force impacts.
3M™ Safety & Security Film in Action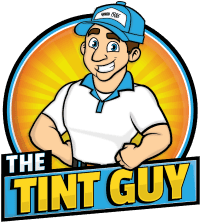 Atlanta's Top Residential Installation Service
The Tint Guy is a go-to for window tinting services in Atlanta and the surrounding areas. Our team, expertly trained and certified in 3M™ film installation, delivers top-notch service with minimal disruption to your daily life. Many competitors say being the biggest is not an advantage. Well, we say it is! We do more residential window film installations in a day than most of our competitors do in a week and this gives us the experience to confidently say — Yes, we can do that! Many of today's homes require specific installation procedures and only an experienced installation company and trained installers can achieve this kind of quality and production with repeated and refined installations.
Whether you reside in the heart of the city or the tranquil Atlanta suburbs, The Tint Guy is ready to enhance your home's security.
Contact The Tint Guy for a free consultation, and let's work together to create a safer, more secure living environment for you and your loved ones.
Glass Coating, Tinting & Window Treatment Specialists
Contact Us For More Information!