Safety & Security Window Film for Businesses in Atlanta
Atlanta, Georgia is a bustling city with a thriving business community. With fast-growing metropolitan and suburban areas, the need to increase business security is essential for business owners to protect their property and assets. 
Windows play a crucial role in the overall security of a business. They provide natural light, aesthetic appeal, and a connection to the outside world. However, they can also be a vulnerable part of commercial properties with the risk of unauthorized entry and accidental damage. 
Ensuring the security of windows is a valuable step business owners can take. The Tint Guy is here to help with quality security films and expert installation services.
The Key to Protecting Your Business Windows 
One effective solution to enhance the security of windows is the application of safety and security window films. These films are specifically designed to reinforce windows and mitigate potential risks. They are made of durable materials that add an extra layer of protection, making it more difficult for intruders to break through the glass.
The Benefits of Security Films in Your Business 
Deter & Protect Against Burglars and Vandalism

: Safety and security window films act as a deterrent against forced entry attempts. They make it significantly harder for intruders to break the glass, delaying their entry and increasing the chances of detection.

Anti-graffiti films

are another step business owners can take to avoid costly repairs on replacements after vandalism.

Protection Against Natural Disasters

: Protect against unforeseen severe weather that has the potential to break, crack, and damage your windows. Security window films can help minimize damage caused by high winds, flying debris, and shattered glass, providing a safer environment for employees and customers while saving you money on repairs and replacements.

Reduce Accidental Breaks

: Accidents can happen in a busy workplace, and a shattered window can pose a significant safety risk to employees and customers. Safety and security window films are designed to hold glass fragments together even when broken. In the event of accidental impacts or collisions, the film helps to prevent the glass from shattering into sharp and dangerous shards. Instead, the film keeps the glass intact, reducing the risk of injury and minimizing the need for immediate clean-up or window replacement.
Renowned for its commitment to quality and innovation, 3M™'s Safety & Security Window Film offers superior protection against various threats. These films are rigorously tested and adhere to stringent safety standards, ensuring businesses in Atlanta can rely on their performance.
To further enhance the effectiveness of their safety and security window films, 3M™ offers the Impact Protection Attachment System. This system strengthens the bond between the film and the glass, providing additional security on your windows.
Security Window Films Can Enhance Any Business's Windows! 
✓ Retail Stores
✓ Restaurants & Cafes 
✓ Hotels
✓ Gyms 
✓ Financial Institutions 
✓ Office Buildings 
✓ Medical Offices 
✓ Schools 
& More!
3M™ Safety & Security Film in Action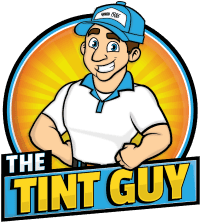 Atlanta's Top Business Window Film Service
When it comes to installing safety and security window films in Atlanta, The Tint Guy stands out as a leading provider. With decades of experience and a team of skilled professionals, The Tint Guy offers high-quality window film solutions tailored to meet the specific needs of businesses in the area. Their expertise, combined with the use of top-tier products like 3M™ Safety & Security Window Film, ensures that companies in Atlanta can enjoy enhanced security and peace of mind.
Contact The Tint Guy for a free consultation, and let's work together to create a safer, more secure commercial property.
Glass Coating, Tinting & Window Treatment Specialists